"Deathly Hallows" Filming Finishing in Two Weeks; Radcliffe and Watson Reflect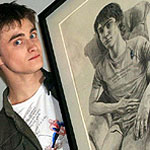 May 27, 2010
People Magazine has a short article online which features a few quotes from actors Dan Radcliffe (Harry Potter) and Emma Watson (Hermione Granger) on the ending of the Harry Potter films. Speaking at the National Movie Awards ceremony last night, Dan Radcliffe is quoted as saying:

"I will be devastated [when it's over]. There is nothing I watch without it triggering a series of memories. Everything [about the films] is so linked to my life. At the same time, it is exciting. It is the end."
The article goes on to reveal that two weeks of filming remain, which, for Miss Watson, make her feel as if "someone is dying." She continues by saying, "this kind of love and recognition is just incredible. It is also really emotional for me. I am proud."
On a related note, we now have for you the two videos of the Harry Potter cast accepting their Family Film Award and Special Recognition Honor at last night's awards show, along with a video retrospective of the films and actors shown at the ceremony in our Video Galleries.