New LEGO Harry Potter: Years 1 – 4 Gameplay Clips Released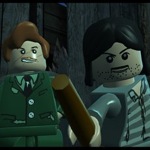 Jun 23, 2010
A number of new video previews from the LEGO Harry Potter: Years 1 – 4 video game have come online, showing various new moments of game play. The first clip features action from the Chamber of Secrets elements of the game form inside the chamber itself, as well as our first look at LEGO Lockhart. The second clip, available to view here, showcases LEGO Harry and Hermione roaming around Hogsmeade Village and its various shops. A third clip gives us a look at the Tri-Wizard Tournament sequence from Year 4, with the champions making their way through each of the various tasks, including fighting the dragon, diving into the lake, and battling various creatures and elements in the maze. This clip can be viewed via this link. Lastly, the LEGO Harry Potter video game site in France has updated their Extras section with a downloadable demo of the game for PC.
The LEGO Harry Potter: Years 1 – 4 video game will be released on June 29.
Many thanks to UHP for owling.