Borgin and Burkes Magical Item Contest Announced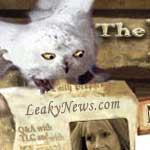 Jul 01, 2010
Our Contest Team have just announced their latest contest for the month of July, the Borgin and Burkes Magical Item Contest.
To enter this month's contest, design and illustrate an original object that might be found in Borgin and Burkes. Please note that this is not a normal art contest and the illustration is more for reference than it is for artistic value. The object can be a dark object or a powerful magical item.
All submissions must be e-mailed in .jpg, .png or .gif format to
[email protected] by 11:59 pm (EST) on the 31st of July,
with "Borgin and Burkes" in the subject line of the e-mail. Anyone 13
years of age and over who is not involved in the judging process is
welcome to enter and please bear in mind that all entries must meet the
PG-13 rating.
The first place winner will receive a handcrafted wand donated by Wizard Wood Wands
and 200 MyLeaky points. More information, including the full rules of
the Borgin and Burkes Magical Contest can be found via this link. You can also find further discussion of all of our contests in the Contest Corner Forum at the Leaky Lounge.
Good luck to everyone!