Actors in the News Weekly Roundup (Updated)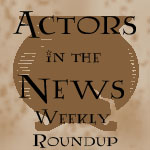 Jul 18, 2010
As the focus moves away from the wrapping of principal production for "Deathly Hallows" and the unveiling of the Wizarding World of Harry Potter, news nonetheless continues to roll in about the Harry Potter cast. Firstly, in exciting news for music fans, Tom Felton (Draco Malfoy) has been signed to Six String Productions. The London-based production company tweeted on the 15th of July:

Tom Felton has signed and the album is very much
on its way..
The Twitter announcement was subsequently retweeted by Tom Felton himself. Felton has been uploading videos of his music to YouTube since 2008 and you can find his YouTube channel, Feltbeats, at this link.
Secondly, also in Twitter-related news, Emma Watson (Hermione Granger) has opened a Twitter account under the username EmWatson. The actress' first tweet reads:

Hi everyone, this is the real me! I won't be able
to tweet often but I just wanted to say hello. Have a great summer, love
Emma x
Although the account is yet to be classed by Twitter a "verified account," tweets from the official "Harry Potter and the Deathly Hallows" film account and Great Fridays – the digital agency behind official website EmmaWatson.com – both confirm that EmWatson is indeed the Hermione Granger actress. You can find Emma Watson's Twitter account at this link.
Updated: Emma Watson's official website, EmmaWatson.com have now confirmed that the account is genuine. Additionally, the EmWatson account is now a "verified account" on Twitter.
In other news, thanks to our Order Partner RupertGrint.net, we can let you know that Rupert Grint (Ron Weasley), James Phelps (Fred Weasley) and Oliver Phelps (George Weasley) have been taking part in the Barmy to Barcelona Wacky Rally. The actors are participating in the rally under the team name "The Salty Sea Dogs" to raise money for the RNLI; you can find a video of Grint and the Phelps twins talking about both the rally and the Royal National Lifeboat Institution here on the RNLI website.
"The idea of a wacky rally seemed like quite good fun, while also being challenging," said Oliver Phelps in a press release issued by the RNLI. The George Weasley actor continued:


Having great admiration for the work of RNLI volunteer lifeboat crews and lifeguards, who often face challenging situations, it made sense to choose to support them and their lifesaving work. The distinctive RNLI colours also gave us great inspiration for the car.
You can read the full press release here at RupertGrint.net. The fundraising page for The Salty Sea Dogs can be found at this link on the Virgin Money Fundraising website.