Actors in the News Weekly Roundup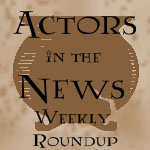 Jul 25, 2010
It has been a slow news week for the Harry Potter cast, but a few stories have come through nonetheless. Firstly, as we told you last week, Rupert Grint (Ron Weasley) and Oliver Phelps (George Weasley) recently took part in the Barmy to Barcelona Wacky Rally under the team name, "The Salty Sea Dogs" to raise money for The Royal National Lifeboat Institution. Rupert-Grint.us has decided to merge fandom celebrations of Rupert's 22nd birthday with fundraising for the RNLI, who work to save lives at sea during search and rescue missions; running costs for this 24/7 life saving work are high and the charity depends on fundraising.
The "£22 for Rupert's 22nd Birthday 4 RNLI" fundraising effort asks those who can to donate at least £22 to the RNLI via "The Salty Sea Dogs" donation page. The first 22 fans to make such a donation will receive a personalised gift from Rupert Grint himself. Furthermore, the top donor will receive a picture of "The Salty Sea Dogs" in their water rescue gear autographed by Rupert, Oliver and James Phelps (Fred Weasley). You can donate here at the donation page and find out more information about the fundraising effort at this link.
In other news, Bonnie Wright (Ginny Weasley) and Rhys Ifans (Xenophilius Lovegood) attended the London premiere for "Toy Story 3." Pictures of the actors on the not-so-Red Carpet as well as at the Afterparty can be found here in our Leaky Galleries. "Toy Story 3″ was released last Monday, 19th July in the UK.
Gary Oldman (Sirius Black) has been photographed on the set of "Red Riding Hood" wearing a purple robe, grey gloves and a cross around his neck. Oldman plays Father Solomon in the film, which is slated for 2011 release and also stars "Mean Girls" and "Mamma Mia!" actress Amanda Seyfried. "Red Riding Hood" is directed by Catherine Hardwicke ("Twilight","Thirteen") and was written by David Johnson ("Orphan"). You can find the photos of Oldman on set in our Leaky Galleries at this link.