Dan Radcliffe Apologizes For Not Being at Comic-Con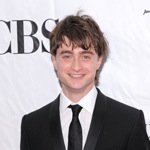 Jul 27, 2010
In a new interview with Daniel Radcliffe (Harry Potter) the actor expressed his regret for not attending this weekend's Comic-Con:

"I apologize to all the wishful thinkers for my disappointing non-presence," Radcliffe said Monday by phone from London.
The actor, who has finished some post-production voice work on
the last "Potter" film, says he is still grappling a bit with the
concept that he will never wear the robes of Hogwarts on screen
again. He still cares deeply about "Potter" fans, though — he sounded
genuinely distressed to hear for the first time about the wildfire
rumors that led fans to believe he would be at the San Diego pop-culture
expo that wrapped up on Sunday.
"Really? Oh, God, I had no idea. I suppose it's like when I'm at Reading Festival and I hear that suddenly some amazing band is going to play a surprise gig and then it turns out to be total fiction."
Later in the article he also discusses a comment Tom Felton (Draco Malfoy) made at Comic-Con about how he cried on the last day of shooting:
"You know what, I'd love to libel him and call it a lie, but, darn, he's
absolutely right. We all three of us — me, Rupert and Emma — we just wept. And I've never seen Rupert Grint cry. That was really weird."
You can read more here. You can download Leaky and Mugglenet's joint coverage of the Harry Potter Comic-Con panel at our iTunes feed, or directly download it here.