Win a Set of Signed J.K. Rowling Books!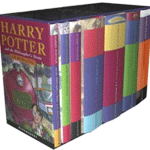 Aug 01, 2010
Posted by Melissa Anelli
Hey everyone: a quick reminder that the books that J.K. Rowling donated to the HP Alliance's "Helping Haiti Heal" effort are back up for a drawing, and you can win them! This time the proceeds will benefit the scholarship foundation set up by the Association of Electrical Contractors for New York City, and Kamp Kiwanis, a camp for underprivileged and ill children. A great cause, a great prize! One ticket is $40, or you can get three for $100. Go here to enter!