Harry Potter: Spells App Now Free; New Spell Pack Available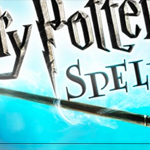 Aug 04, 2010
The Harry Potter: Spells App, which is the best-selling Harry Potter App for the iPhone and iPod touch, is now free to try. The Harry Potter: Spells App makes it so that "Muggles Everywhere Can Turn Their iPhone and iPod touch Into Magic Wands to Cast Spells and Duel One Another," as well as winning points for your House. In addition to now being free to try, the Harry Potter: Spells App is offering a new "Premium Spell Pack":

Earlier this year, fans who
previously purchased HARRY POTTER: SPELLS were asked to choose
the future spell packs through the App's official Facebook pages. After receiving a tremendous response, three of the top spells
chosen by fans have been included in the first of many
spell packs. The first pack is now available on the App
Store and includes Avada Kedavra (instantly defeats your opponent), Morsmordre (summons the Dark Mark) and
Reparo (repairs broken objects). By downloading these
spell packs, seasoned Muggles will be able to further
hone their spell casting abilities. Players who download the free app can also add these powerful spells to their
collection for an additional $0.99.
If you bought the App in the past "Avada Kedvara" will be free for you.
You can get the Harry Potter: Spells App here, and you can read more about the Harry Potter: Spells App here. Thanks to WB for providing this information!