Happy Birthday Kimmy!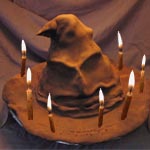 Aug 23, 2010
Posted by Melissa Anelli
Today we celebrate the birthday of the mistress of all things image and (hopefully soon to be restored to their full activity) fan art galleries here on Leaky – Kimmy Blair! Kimmy is one of the many ladies here on Leaky who have been drinking what we are terming the "Leaky water" – as we've discovered, it tends to result in pregnancy. (At least three Leaky people have caught it. The rest of us are avoiding it like a jinx, sticking to pumpkin juice.) So, a happy birthday today is not just a wish for her, but a wish for the little one she will soon bring to the world. We hope you'll join us in wishing them both a great day!