Esther Earl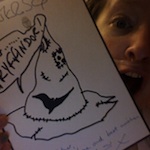 Aug 25, 2010
We don't often do this on Leaky, but today, we have to take a moment to inform and comfort each other. Some of you may remember Esther Earl, in whose name many of you voted for the HP Alliance in the Chase Community Challenge (see this video for more). A 16-year-old girl with boundless courage and a thirst for life, love and friendship, Esther (whose name means "star") was a bright light who reminded us all how important it is to connect with one another while we are able.
She had cancer, though she would be the first to tell you this was not the most defining fact of her life. Especially in the past year, Esther became an inspiration to thousands of Harry Potter fans. She encouraged everyone to be their best selves, and to pronounce feelings of love openly and loudly, while you had the chance.
Early this morning, Esther Earl, a true Gryffindor, passed away. She was a dear friend to Leaky and will be missed greatly.
Her family says: "We are convinced she is more truly alive than ever, but still our hearts are breaking."
We know she is on her next great adventure, but also know this is difficult for those who are not. We wanted to let you know, and to offer a place for Harry fans to say something in her memory. We know it's difficult to know what to say or do when this kind of tragedy strikes; we know the goodness in all of you will mean you want to take action, do something to comfort her friends and family. The best thing to do, today, is to send up a thought, a wish, a prayer, for those who are hurting, to the community she so touched, to her friends and family as they work through their grief. Then, live your life as fully and as joyfully as Esther did.
In the future we will have more information about ways in which we are actively honoring her. You can visit her family's web site for more about the upcoming memorial services or just to send a note of support.