January Featured Crafter of the Month: Overcast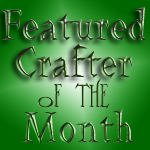 Jan 01, 2010
Our Crafty Witches and Wizard have chosen crafter Overcast as January's Featured Crafter of the Month. Overcast has used her skill with crochet hooks and knitting needles to produce crafts such as Babbity Rabbity and Her Cackling Stump, a lightning bolt scarf and even a Leaky Cauldron hand towel. One of the Crafty Witches asked Overcast some questions about her work and you can watch Overcast's responses below:
More crafts by Overcast can be found via this link.
Nominations are now open for February's Featured Crafter of the Month and will be accepted until the 15th of January. If you would like to nominate a crafter to be featured next month, email [email protected] with the crafter's name, as well as links to their work. More information on the nomination process can be found here.