Jingle Spells 4 available for order now!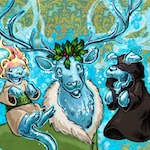 Nov 07, 2010
It's that time of year! Jingle Spells, The Leaky Cauldron's annual holiday fundraising album of wizard rock, is here! This album is currently being printed and will begin shipments in a week. We are only making 1,000 of these albums – historically they have gone very quickly so do not wait to get yours. Welcome to the holidays!
This year, the album's proceeds are going to our friends at The HP Alliance as well as a new beneficiary: Friends in Deed. Friends in Deed is a crisis support center – if you are a fan of the musical RENT and know the group "Life Support" represented within it, you know Friends In Deed. It is the group that Jonathan Larson based it on, it has helped thousands of people get through difficult times in their lives, and it is currently going through its own financial crisis. This year part of the Jingle Spells proceeds will aid this worthy organization.
size="+2″ color="#990000″>CLICK HERE TO ORDER YOUR ALBUM!
Note: You may no longer use PayPal to purchase Jingle Spells. The Leaky Cauldron is proud to be a fully PayPal-free organization.
This album is ONLY available in physical format right now – digital will come later, but physical is the only way to get the beautiful artwork drawn by Frank Franco III. Also, Jingle Spells, for the first time this year will be a green album: the album is being produced with a recyclable cardboard jacket free of plastic shrinkwrap.
All the bands donated their music and the results are outstanding. Listen to samples below!
"Out in the Cold, Wild Yonder," Oliver Boyd and the Remembralls,


"When Bellatrix Came Over for Christmas/What?!," Harry and the Potters


"Yuletide Anthem," KwikSpell


"A Gift for Lucius," Draco and the Malfoys


"Baubles and Butterbeer," Siriusly Hazza P.


"Voldemort's Secret Santa," Seen and Unforseen


"I Want a New Song for Christmas," The Whomping Willows


"Funky Xmas," Solitary Snape


"The Unexpected Christmas Card," The Honeyduke's Cellar Gang


"Hogwarts Lullaby," The Veelas


"Help Me Hagrid," Justin Finch Fletchley and the Sugar Quills


"Spread the Pureblood Cheer," The Purebloods


"Happy Christmas (A Journey)," Undesirable #1


"Auror Xmas," Tonks & the Aurors


"Mrs. Lovegood's Christmas Cookie Song," DJ Luna Lovegood


"Eat You on Christmas," Leth I. Fold


"Christmas Night (Too Much Pumpkin Juice)," Slytherin Soundtrack


"Literary Echo," The Remus Lupins



"Have Yourself a Harry Little Christmas," Gred and Forge




size="+2″ color="#990000″>CLICK HERE TO ORDER YOUR ALBUM!