Steve Kloves: "In a Cynical World, 'Potter' Stands Apart"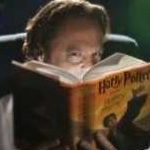 Nov 11, 2010
Steve Kloves, screenwriter for seven of the eight Harry Potter films, has given a rare interview to the LA Times' HeroComplex Blog. Kloves speaks about the difficult position of writing for the successful book series, commenting, "If people like a ˜Harry Potter' movie, it's because of the book […] But if they don't like it, then it's my fault."
Kloves reflected on his initial choice to adapt Harry Potter and the Philosophers' Stone, having been sent a list of titles Warner Bros. held the rights for and were looking to make into films:

"The truth is ˜Potter' was really strange for me, right from the beginning, it wasn't the sort of thing I ever expected to be doing' he said. "It was really, really nice in many ways but always a little odd¦. I always saw myself writing movies that, you know, people don't go see."

"At that point, this was 1998, ˜Potter' wasn't that big a deal here in the States, and later one of my friends said to me, ˜If it had been on the cover of Time magazine before you signed up, you never would have done it,'" Kloves said. "And that's absolutely the case."
The screenwriter also spoke to his friendship with Jo Rowling, author of the Harry Potter books:

"The single greatest thing I take from the experience of the past 10 years is becoming friends with Jo. That's a separate thing from all of this now, separate from ˜Potter,' and it's become a very important part of my life. I used to say she's the coolest chick on the face of the planet. You read that first book and you thought, ˜Angela Lansbury wrote this book,' then you meet her and she knows all of your music references and she's funny. The first thing you pick up sitting down with her though is the intelligence. We had to make movies as smart as her books and as smart as her."

Kloves is proud of the work he's done but he still gets spooked by its reach and ripple. "I still don't understand the magnitude of it' he said. "I only catch glimpses of the size in my peripheral vision. It kind of freaks me out."
Kloves further commented on why he thinks Potter is unique:

"In a cynical world, ˜Potter' stands apart' Kloves said. "Look, to take a dystopian stance as a writer or a filmmaker is not that difficult. It's much harder to be earnest about things like loyalty and courage and friendship. Jo Rowling has been able to deal with these things in her books without being saccharine."
HeroComplex Blog also spoke to Executive Producer David Heyman about Steve Kloves. Heyman said he could think of "no other screenwriter who can capture an author's voice" as successfully as Kloves:

"He did so in ˜The Wonder Boys' and hehas done so in all the Harry Potter films he has written. He has the ability to get inside an author's head and bring their voice to the script, to the screen. That is the greatest of so many gifts he has given to the Harry Potter films. There were even times when he wrote scenes that were not in the book that Jo said she wished she had thought of. He understood what to leave in, what to leave out, he gave the characters their voices, he was able to turn on a dime, from a dramatic moment to a comedic moment, from the intimate to the epic and he was able to adapt to the styles and demands of each of the four directors and give them what they needed and wanted. The Harry Potter films would be much less without him."
You can read the full interview at this link on the HeroComplex Blog.
Thanks, Jamie, for emailing in!