Entertainment Weekly Looks Back at the First Two Harry Potter Movies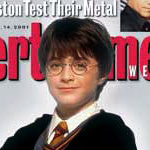 Nov 15, 2010
Posted by Mel
In anticipation of the release of "Deathly Hallows: Part 1″ Entertainment Weekly is reflecting on all the Harry Potter movies that came before it. Thus far they've only done pieces on the first two Harry Potter movies, and they discuss the particular challenges and memories associated with each film. For "Sorcerer's Stone" Entertainment Weekly writes:
True, it was impossible to not feel warm fuzzies buying a ticket to the
film " I remember the heightened excitement that permeated throughout my
theater in 2001 with each preview shown before Sorcerer's Stone,
and the eventual look of gleeful recognition that fell over
theater-goers' faces when they spotted locales like Diagon Alley,
Flourish and Blotts, and Gringotts Bank for the first time. And they
could thank Columbus for that vision, which was inspired not only by
Rowling (who told EW that she had a surprising amount of input in the
film), but also filmmaker David Lean, who adapted Charles Dickens' Great Expectations in 1946 and Oliver Twist in 1948: "That sort of darkness, that sort of edge, that quality to
the cinematography' Columbus told EW back in 2001. "For the color
palette, we talked about Oliver! and The Godfather,
which have a sort of rich, almost Technicolor quality to them. When we
entered Magicland " which is how we always referred to Hogwarts " I
wanted each frame to be filled with a sense of wonder."
For "Chamber of Secrets" Dan Radcliffe (Harry Potter), Rupert Grint (Ron Weasley), and Emma Watson's (Hermione Granger) then dressing rooms are discussed:
Indeed, when EW took a look at the stars' dressing rooms, we found them to be normal teens in the face of global fame: Watson,
then 12, had a Brad Pitt calendar above her desk, a spangled purple belt
on the floor (she was into fashion even then!), hairbrushes, Hello Kitty
stickers, and adoring fan mail. Fourteen-year-old Grint's room had a
mini-billiard table, a guide to the 2002 World Cup, unfinished food, and, as we
described it ever so delicately, "a charming poster that deals with the
considerable comedic potential of flatulence." As for Radcliffe's room, it was
"surprisingly neat given his taste for punk rock and Spider-Man and his
reputation as a practical joker." If the stress of filming another blockbuster was getting to them, they
didn't let it show. "We had a week with 300 extras in the Great Hall'
Watson said, "it's boiling hot, the food stinks, everyone is dying of
boredom, and we have to make everybody laugh. It got so bad that Dan had
to get up onto the table with Robbie Coltrane [who plays groundskeeper
Hagrid] and dance. He did the cancan. He did the macarena. The whole
hall was laughing. Ask him about it! He'll blush."
You can read both articles here and here.