Video: JKR Promised Radcliffe No More 'Potter' Films; Six New Cast Interviews from US Premiere (Updated)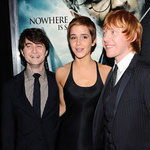 Nov 16, 2010
MTV has six new videos online from last night's premiere of "Harry Potter and the Deathly Hallows: Part 1″ in New York City. Update: You can now find these videos in the Leaky galleries, where they can be downloaded in several formats – check out the updated links below!
Daniel Radcliffe (Harry Potter) revealed that he received a text from Harry Potter author J.K. Rowling:


"[Rowling said in the text message that she] felt I'd [Radcliffe] been very good in the Harry Potter film and as a reward for that she wasn't going to make any more Harry Potter films. I'm sure she will be writing other books but I can pretty much guarantee that Harry will not be a feature"
Of the films, Radcliffe said, "To have sustained this level of quality for ten years is a very big thing in a franchise […] It's us and Toy Story, to be honest, and I think we've done amazingly […] I'm thrilled." You can watch the video in the Leaky Video Galleries at this link or at the bottom of this post.
Emma Watson (Hermione Granger) asked Calvin Klein whether they would make a dress for her for the premiere, which they did. The actress said she'd have to shave her hair for the change to get any more drastic! "I wish I'd gotten to play a Quidditch game," said Watson, "Hermione is not the athletic type and I wish I'd gotten to ride on a broomstick." You can watch Emma's interview in the Leaky Video Galleries at this link or below.
Rupert Grint (Ron Weasley) spoke about going skiing and getting his tonsils out now that he is done with the Harry Potter film; watch the video in our galleries at this link or below.
Tom Felton (Draco Malfoy) chatted about going "all out" for the premiere despite a first thing flight the next morning. "Those screams [of the fans outside the premiere] were literally deafening, if there were glass out there it would be cracking, so credit to all the fans out there, great job!" said Felton. Of his scenes with Ralph Fiennes (Voldemort), Felton said he was "terrified" and that it took him "a good four days to really say anything on that set, Ralph is a terrifying man whether he's doing Voldemort or drinking a cup of tea, he's equally terrifying." Watch the video here in our galleries, or below.
Ralph Fiennes (Lord Voldemort) also spoke about the film's opening scene which he discovered as "well written." Fiennes commented that director David Yates was good at challenging all of the actors to discover new things about their characters in each film, "keeping us alert to any [of the characters'] nuances […] I enjoyed making these two films more than any of the others". The actor further commented on the totality of Voldemort's evilness, saying, "he's like the devil". You can watch the interview with Fiennes here in the Leaky video galleries or at the bottom of this post.
Lastly, Darren Criss, who starred as Harry Potter in student productions "A Very Potter Musical" and "A Very Potter Sequel" and recently appeared as Blaine on "Glee", spoke to MTV about being on the other side of the red carpet and what would happen if he ran into Daniel Radcliffe. You can watch that video at this link or just below.
Thanks Peggy for emailing in!
Dan Radcliffe


Emma Watson


Rupert Grint


Tom Felton


Ralph Fiennes

Darren Criss