Entertainment Weekly Looks Back at "Prisoner of Azkaban" and "Goblet of Fire"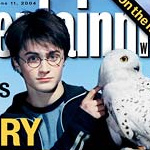 Nov 17, 2010
Posted by Mel
As you may recall, Entertainment Weekly is looking back at the first six Harry Potter films as a way of counting down to the release of "Deathly Hallows: Part 1." They now have articles on "Prisoner of Azkaban" and "Goblet of Fire." For "Prisoner of Azkaban" Entertainment Weekly writes:
Cuarón continued to shake things up well into production. He relocated
Hogwarts castle to the Scottish Highlands, forcing production delays due
to bad weather. He collaborated with screenwriter Steve Kloves on
inventing scenes whole cloth, like Harry's solo joyride on a majestic
Hippogriff (part horse, part eagle). He encouraged actor Michael Gambon,
who replaced the late Richard Harris as Hogwarts Headmaster Albus
Dumbledore, to embrace the character's eccentric sensibility, dressing
him more like a magical hippie than the classic wizard from the first
two films. He asked for longer, more complicated takes, challenging his
young actors to stretch past their limitations. "Sometimes, it took two
weeks for me just to get one shot right' said Radcliffe. When the title
star approached Cuarón for help in nailing a particularly demanding
monologue railing against Sirius Black, instead of simply giving him
suggestions for facial expressions like Columbus would have, Cuarón
talked Radcliffe through Harry's emotional life. Then he said, figure
this out for yourself. "I'll forever be in his debt' Radcliffe raved.
"It basically affected the way I approached everything after that."
In discussing "Goblet of Fire" Entertainment Weekly pays particular attention to the choice of Mike Newell as director for the film:
Enter Mike Newell, the journeyman director of Four Weddings and a Funeral and Donnie Brasco. Like Azkaban˜s Alfonso Cuaron, Newell might've seemed like a left-field choice to make a boisterous fantasy romp, but Potter producer David Heyman explained to EW that Newell was actually his first choice to direct Sorcerer's Stone. "[Heyman] had the following thought: Harry Potter's British; perhaps the artistic sensibility translating him should be British too." Although Newell turned down the original job, he took the gig for Goblet,
figuring that he could bring a note of realism to the film's portrayal
of British school life. Regarding the first two films, Newell noted: "I
felt the children were rather¦oh, Stiff. My view is that children are violent, dirty, corrupt anarchists."
You can read both articles here and here.