Videos: David Yates Discusses Deleted Scenes, Tom Felton on Lopez Tonight, "I Am Harry Potter"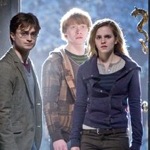 Nov 24, 2010
MTV has interviewed director David Yates, where he was asked about things he cut from the movie. He discusses a specific scene he cut and tells the interviewer that right now he expects there will be about "ten or twelve or fifteen minutes" of deleted footage on the DVD. You can watch the interview here or below.
On Monday, Tom Felton (Draco Malfoy) appeared on the talkshow Lopez Tonight and discussed various things such as the Mexican premiere he attended and placing a bet on a horse named "Harry Potter." You can watch this video here or below.
Finally, there is a humorous video with Judd Apatow interviewing Dan Radcliffe (Harry Potter), where Radcliffe claims that he is actually Harry Potter and that Dan Radcliffe is a character he is playing. You can watch this here or below. Many thanks to jon for the tip!
style="text-align: left; font-size: x-small; margin-top: 0pt; width: 512px;">I Am Harry Potter from Daniel Radcliffe