November/December 2010 Knitting and Crocheting Contest Announced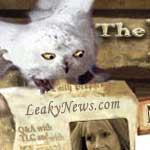 Nov 03, 2010
Our Crafty Witches have announced a new contest for November and December: We're Going to War! Are You Joining Us? The two-month contest is a crafty battle between crocheting and knitting. To participate in the contest, submit any Harry Potter related crocheted or knitted item you've made and that cannot yet be found on Leaky Crafts or in the Leaky Crafts Galleries.
Those in search of extra points for their side in the Crocheting vs. Knitting war can write or make a video for the item they have submitted. Submissions can be done in the following ways:
By posting in the Contest thread in the Leaky Lounge;
By tweeting @TLC_HPCrafts in the tweets containing your pictures/tutorials;
By replying to the Contest post on LiveJournal;
By tagging HP Crafts in a Facebook picture/post;
By posting your pictures in the Photos section on Harry Potter Crafts/ Yahoo!Group;
By e-mailing the Crafty Witches your pictures and/or tutorials at [email protected]
Please include your tutorial, your pictures and/or videos and your MyLeaky username. All entries must be received NO LATER than 11:59PM EST on December 31, 2010.
You can find out more information about the contest, including the full rules and a breakdown of the points rewarded, here on the HP Crafts contest page.
Happy knitting/crocheting!