E! News Goes Inside the Ministry of Magic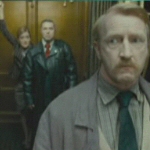 Nov 08, 2010
A new behind-the-scenes feature aired tonight on E! News with new footage from the trio's infiltration at the Ministry of Magic.
Daniel Radcliffe (Harry), Rupert Grint (Ron), and Emma Watson (Hermione) are interviewed in this clip about their Ministry doppelgangers and talk about being "mini directors" to the adult actors.
Watch some of the intense action scenes that take place inside the Ministry here!