Harry Potter Fan Post-Deathly Hallows Premiere Party in New York City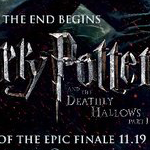 Nov 08, 2010
Calling Harry Potter fans in New York City! Leaky, along with our friends over on MuggleNet, are plotting to throw a post-premiere party for the "Harry Potter and the Deathly Hallows: Part 1″ film and we'd like you to join us!
We are planning a fan party following the red carpet arrivals of the stars on Monday, November 15th. It'll be a great way to meet fellow Potter fans in the Big Apple. While we don't have an exact location yet, we need you to RSVP so we know how big of a venue we need.
Please visit this Facebook page to let us know if you're coming! More details will be announced soon. We hope to see you there!