Warner Bros. Announces Leavesden Studios Plans and Potter Set Tours in 2012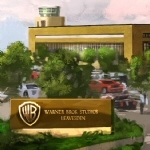 Nov 08, 2010
Warner Bros. have revealed their plans to redevelop Leavesden Studios into a "state-of-the-art filmmaking hub" and provide fans with behind-the-scenes tours of the Harry Potter sets.
Leavesden Studios which is located in Hertfordshire, England, has been home to the Harry Potter films for the past decade.
As part of the renovations, two new soundstages will be built to hold sets used in the Harry Potter films as well as numerous other film memorabilia. The behind-the-scenes tours of these soundstages are tentatively scheduled to begin around Easter 2012.
Early concept art of the new Leavesden can be seen at Empire Online.
Barry Meyer, Warner Bros. chairman and CEO expressed his excitement over the new project, saying:
"Our multi-million pound investment in creating a state-of-the-art, permanent UK film production base further demonstrates our long-term commitment to the skills and creativity of the UK film industry."
The project is expected to cost £100m, and will provide 300 new jobs in the filmmaking industry. In the past, Leavesden has also been used to film scenes from "The Dark Knight" and "Inception," both also Warner Bros. films.
Thanks, Tracy, for the news!