Warner Bros. to Live Stream "Deathly Hallows: Part 1″ World Premiere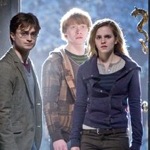 Nov 08, 2010
Leaky today received confirmation from Warner Bros. that the World Premiere of "Harry Potter and the Deathly Hallows: Part 1," will be live streamed from 9am PST / 12pm EST / 5pm BST this Thursday, 11th November for those Harry Potter fans unable to attend.
Stay close to Leaky for more details about the premiere, which is taking place in London's Leicester Square and for links to the live stream.
Thanks to Warner Bros.!