Merry Christmas!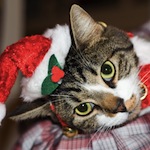 Dec 25, 2010
Posted by Melissa Anelli
Merry Christmas, everyone! We want to take a moment today to wish you the very happiest of holidays no matter what you celebrate – be it Christmas or Chanukah or Festivus or Kwanzaa or The Annual Day of Too Much Eating – whatever your holiday, we hope that it's a marvelous one, from our family at Leaky to yours.
(This random cat we found on the Internet wishes you the happiest day, too.