Ralph Fiennes Discusses Lord Voldemort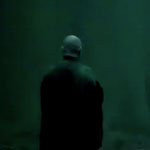 Dec 07, 2010
In a new article in USA Today, Ralph Fiennes (Voldemort) talks about his character in the Harry Potter films:
"He's really sort of the devil," says Fiennes,
47. "He's completely emotionally detached. He has no empathy. You find
that in psychopaths."
For Fiennes, an Oscar nominee for playing a Nazi officer in 1993's Schindler's List,
knowing your character's driving force is key to unlocking his
potential for malice. "It's about power with Voldemort," he says. "It's
an aphrodisiac for him. Power makes him feel alive."
…
Fiennes goes into Voldemort mode at the mere mention of Potter.
"Daniel's very nice, but Harry Potter's a pain," says Fiennes, scowling
and hissing.
Others in the Harry Potter cast weighed in on Fiennes's portrayal of Voldemort. Daniel Radcliffe (Harry Potter) and Tom Felton (Draco Malfoy) noted the presence Fiennes has while acting:
And no matter the lights, cameras and presence of
dozens of crewmembers, Radcliffe was consistently unsettled by Fiennes.
"When Ralph's doing his Voldemort stuff, he just really freaks me out."

Tom Felton, who plays Draco Malfoy, says he also was unnerved.
"Ralph is mesmerizing," Felton says. "He never
did two takes the same. … I had to keep reminding myself: 'Stay in
character. Don't just sit there and watch his performance.' "
Even when the cameras stop, the aura of Voldemort remains.
"He dominates scenes in the film, and it's like
that off the set as well," Felton says. "He's quite a charming guy. And
when he opens his mouth, people listen. Let's put it this way: No one
talks over him."
You can read more here.