Tom Felton Talks Draco and "Apparition" in New MTV Interviews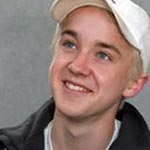 Feb 11, 2010
MTV has two new articles online featuring Tom Felton (Draco Malfoy). In the first, which you can find at this link, Mr. Felton talks about the "weird love/hate relationship" Draco has with Harry. Quotage:

[Deep] down, Draco is desperate to get out of what he's in. In 'Half-Blood Prince,' he had a real wake-up call, realizing this is not what he wants to do, this isn't the path he wants to go down. Unfortunately, his parental influences aren't too good. He's kind of forced into the dark side. It's hard when Voldemort is sort of your step-uncle, in a weird way.
Mr. Felton also discusses his "long talks" with director David Yates about the Draco's internal conflict. Also mentioned is the battle scene at Hogwarts, which Mr. Felton comments is a scene he is particularly proud of:

That's a fantastic moment in the courtyard, where it's kind of like a Western showdown between good and evil, and Draco's the only character where you have to go from one side to the other.
Secondly, Mr. Felton has spoken to MTV about his "dream role" in supernatural thriller "The Apparition." Describing it as a "real step outside what I'm used to and what I've been doing for the last 10 years," Felton reveals that he will no longer be blond for the film. The actor spoke a little about his character:

He's a college student, a very intelligent, confident young man who's really excited about what he's getting himself into. At the same time, he has no idea what he's getting himself into. This character has such a wide range in one movie. He starts off as a real go-getter, and as the story goes on, you really see him turn.
The full article can be found via this link.