Toy Fair 2010: Images of New LEGO Harry Potter Collections, Board Game, and More (Updated)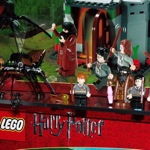 Feb 14, 2010
The first images from Toy Fair 2010, currently taking place in New York City, have appeared online care of Figures.com, and give us first looks at a number of the newest items from the LEGO Harry Potter collection. Included among these new images are displays of the Quidditch Game Set, complete with figures of Harry, Draco, Oliver Wood, and Madam Hooch; the Burrow; Hagrid's Hut; the Freeing Dobby set with Harry, Dobby, and one Lucius Malfoy; the a sprawling Hogwarts Castle collection; and the Flying Car/Hogwarts Express set. Additionally, we have our first look at the upcoming LEGO Harry Potter Board Game. The full set of new images can be found right here.
Readers will recall, earlier in the week word came from the LEGO Group regarding an extended agreement which would bring a series of brand new construction sets and a Hogwarts board game to be released this Fall. Each of the sets currently on display at the Toy Fair contain the note "Coming in October."
Update: Even more images have come online of these figures. YakFace.com has a series of new high quality images of the various LEGO sets, which give up close looks at the detailed figurines and sets.
Our collection of images from Toy Fair 2010 can be found in our Image Galleries.
Thanks Sue.