Reminder: BAFTA Awards Tonight; First Red Carpet Video and Images Online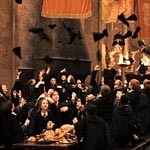 Feb 21, 2010
As was first mentioned in our Actors in Review post below, the 2010 Orange British Academy of Film and Television Arts (BAFTA) awards are set to take place this evening at 9pm GMT in the UK. Readers will recall the "Harry Potter and the Half-Blood Prince" film has been nominated in two categories this year: Production Design and Special Visual Effects. Alexandre Desplat, composer of the "Harry Potter and the Deathly Hallows: Part I" film, has also been nominated in the Music category for his score of the "Fantastic Mr. Fox" film.
The official BAFTA website has a number of clips from the red carpet now online, one of which features actor Jason Isaacs (Lucius Malfoy) speaking about the many British films up for awards this year, who he would like to see walk away with a statute, and more.
Lastly, the first of the red carpet images are also now appearing online, and are available to see as we receive them via our Image Galleries.
The 2010 BAFTAs will air on BBC One in the UK at 9pm GMT, and be broadcast tonight for Stateside cable television subscribers on BBC America at 8pm EST.