David Heyman, Stuart Craig, and Nick Dudman Talk "Deathly Hallows" Production in BBC Radio 2 Interview (Updated)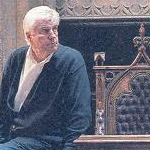 Feb 23, 2010
As we reported previously, the BBC Radio 2 program David Puttnam's Century of Cinema aired a special feature on the the "Harry Potter and the Deathly Hallows" film with an interview from Leavesden Studios with film producer David Heyman, Creature & Make-Up Effects Designer Nick Dudman, and Production Designer Stuart Craig. In an episode dedicated to looking forward to the future of cinema, the program contains a discussion with the three creative minds on many subjects including the ways in which film works on its own and comes together as a whole, their experiences over the past ten years, differences between the books and films, and much more. The full audio from this episode is now online and available to hear via this link.
Stuart Craig, talking about his past ten years working on the film, commented, "miraculously, we have gone from one Harry Potter movie to another and I think it's in the writing, there are new challenges in every one." Mentioning that if he had initially been asked to sign on for ten years, he would have declined, Craig continued:

Each time we start it's with an amazingly fresh heart … We haven't strictly adhered to continuity, we have taken big liberties … [and] the process of making it better and better is also hugely rewarding and satisfying, so – to my great surprise – I am still here ten years later and have enjoyed all of it.
Creature & Make-Up Effects Designer Nick Dudman said that "cinematically, [Potter] changed the audience's acceptance" of the fantasy genre. Moreover, Potter is, "historically – as far as British cinema is concerned – completely unique," said the designer, comparing the effect of the films on the past decade to the Bond and Star Wars films in their respective time periods.


The whole franchise concept is a phenomenon of the last ten years. In many ways, it's like saying yes, we're making thumping great movies, but actually, we're going to do it like a T.V. series, we're going to run and run with this. If the legacy of Potter is anything, it's having proved this can work and that it's a business model, other people will try it. As a technician, as an artist working in this industry, this is very good news, because – hopefully – somebody will take it and run with it… and do it again.
Lastly, David Heyman spoke of the films as "one story but in many parts." "Ultimately," says Heyman, "Jo Rowling created great stories with great characters and I think that's really the heart of it." When asked about when the films became a franchise, the producer stressed his interest in "making the best adaptation of Jo's books."

When I first read Harry Potter … I most certainly had no idea that it was going to become the phenomenon that it has and that all seven books were going to be as successful as they have been, which, I think, has provided the foundation for the success of the films. I think Jo Rowling has created such vivid characters and such wonderful stories with themes that are universally relatable.