New Interview with Jason Isaacs: Isaacs and Yates Plotted How to End Lucius' Story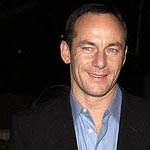 Mar 15, 2010
Jason Isaacs (Lucius Malfoy) gave a new interview to Dermot O'Leary's show on BBC Radio 2 on Saturday, in which he discussed finishing Potter and his role in "Green Zone." Confirming that he'd wrapped, Isaacs said, "hopefully there'll be some publicity and I can get the wig back on again." The actor revealed that he and director David Yates had been discussing how to end Lucius' story in the film:

One day I came up with this [idea for how to end Lucius' story] and [Yates] said, "that's it, that would be great." We shot some particular bit but I still had months left to film and I went to the trailer and took all my gear off and the First Assistant who came to see me went, "Jason, we're just looking at the schedule and we realised that actually we don't need you now" […] And I said, "Why?" and he said, "well that thing you just decided to do means you're not in that scene, or that scene, or that scene. And I went, "Argh! I've changed my mind! It was a terrible mistake, get everybody back!" So I had to say goodbye to it, but it was a magnificent run.
Isaacs went on to compare Potter to his other acting projects and discussed his motivations behind acting.

I know it sounds pretty ungrateful, but I don't do this job for anybody who watches it, I just love the process of it. I like the research, I like the process of being around people, the community spirit of it. With Potter, it's different. The end result and the pleasure it gives to people just goes on forever, it's kind of the opposite of herpes. It's the gift that really does keep on giving, Potter. I meet people and I don't have to do anything. I just have to breathe and exist in the room and it gives them pleasure.
The actor described Daniel Radcliffe (Harry Potter), Emma Watson (Hermione Granger), Rupert Grint (Ron Weasley) and Tom Felton (Draco Malfoy) as "really fine, grounded humble young people, which is pretty extraordinary considering they're the most famous young people on the planet." Isaacs also talked about the older actors he has worked with whilst making the Harry Potter films and referred to the call sheets he's saved, saying, "I look at the call sheets and it's got Michael Gambon and Maggie Smith and Alan Rickman and Gary Oldman on it and I go, 'my name's on the same piece of paper!'"
The interview also covered Tom Felton's mailbag, a comparison of running in London's Hampstead Heath and Los Angeles' Runyon Canyon along with a lengthy discussion of Isaacs' latest role in "Green Zone." The Lucius Malfoy actor described the process of acting without a set script as a, "joy: the freedom that comes with that, the sense of spontaneity."
You can find the interview on the BBC iPlayer at this link; it starts at 2:04 hours in.
Thanks to SnitchSeeker for the heads up!