Scholastic's Real Magic of Harry Potter Campaign Starts (Updated)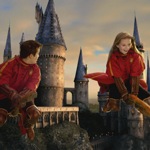 Mar 24, 2010
American Harry Potter book publisher Scholastic has announced a new contest open to US residents aged 7-14 to win one of four family trips for four (4) to Universal Orlando Resort's The Wizarding World of Harry Potter. The Real Magic of Harry Potter Campaign is offering eligible entrants the chance to visit the Harry Potter theme park, which includes:
Roundtrip airfare.
Ground transfers to/from airport in Orlando.
3 nights at an on-site hotel.
3-day/2-park admission to both Universal Orlando theme parks
To enter, those eligible have from now until June 1, 2010 to enter via the Scholastic website: www.scholastic.com/realmagicsweepstakes/. As the press release relates, the Real Magic of Harry Potter Campaign "includes an all new Harry Potter digital experience, a sweepstakes to enter for a chance to win one of four family trips to Universal Orlando Resort's The Wizarding World of Harry Potter (opening spring 2010), a new advertising and social media campaign, and special offers through retail outlets, Scholastic Book Clubs and Book Fairs nationwide. Designed specifically for new readers, The Real Magic of Harry Potter Campaign will offer millions of kids a very special way to begin their Hogwarts journey this spring."
The press release also includes additional information about the looming launch of the revamped Scholastic Harry Potter website, which readers will recall is set to be revealed on March 25th. Quoteage:
"Beginning on March 25, 2010 with the launch of an all new Harry Potter on-line experience (www.scholastic.com/harrypotter ), new readers will be introduced to the boy wizard and each of the seven books in the series, and will be able to share their Harry Potter journey by:
Sending an Owl or Howler to a friend, inviting them to join the magical adventure;
Answering questions to prove their Harry Potter knowledge and unlocking magical activities; and
Searching the glossary of Harry Potter terms to become a more advanced Harry Potter reader.
"Also launching March 25, Scholastic Facebook fans can visit Scholastic's Harry Potter Facebook Tab to share the brand-new book trailer video, unlock and post Facebook exclusive virtual stickers, and participate in weekly polls on Harry Potter."
Update: A preview Book Trailer for the Harry Potter Scholastic website has made its way online, and be seen via the Scholastic Facebook and YouTube pages. Along with the thirty second trailer, a voting forum and question section are also now open on the Facebook page. Thanks to Sue!
On a related note, the opening date for the Wizarding World of Harry Potter is set to be announced this Thursday, March March 25 at 12 pm eastern time. Stay close to Leaky for the very latest!