Actors in the News Weekly Roundup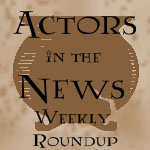 Mar 09, 2010
Actors from the Harry Potter films have this week been getting involved in theatre, fashion, film and Academy Awards. Theatermania reports that Alan Rickman (Severus Snape) will take part in a pre-performance Artist Talk at the Brooklyn Academy of Music's Harvey Theatre. The talk will take place at 6pm on the 27th of April before a performance of the Donmar Warehouse production of August Strindberg's 1888 play Creditors. David Greig's adaptation of the play, which Alan Rickman directed, was first staged in 2008 in London's West End. Tickets to the Artist Talk cost $10 and more information – including how to buy tickets for the play itself – can be found here on the BAM website.
Also in theatre-related news, BroadwayWorld reports that Ralph Fiennes (Voldemort) will star in Dear Uncle in the West End. Alan Ayckbourn's new play, which will be directed by Matthew Warchus and is being produced by David Pugh and Dafydd Rogers, is based on Anton Chekov's play Uncle Vanya. However, there are no specific dates for the play and a theatre is yet to be announced.
Clemence Poesy (Fleur Delacour) attended the Lanvin Ready to Wear show on the 5th of March as part of Fall/Winter 2011 Fashion Week in Paris, France. A number of photos from the fashion show can now be seen via this link in the Leaky Galleries.
Thanks to our Order Partner, RupertGrint.net, we can tell you that both "Wild Target" and "Cherrybomb" are now going to be released in the U.K. on the 23rd of April. The films, in which Rupert Grint (Ron Weasley) stars, were originally going to be released on the 9th of April.
Lastly, photos of Alexandre Desplat's arrival at the Academy Awards this weekend are now online in our galleries. The film composer, who is scoring "Harry Potter and the Deathly Hallows: Part 1," was Oscar-nominated for his work on "Fantastic Mr. Fox." Desplat also attended the Parmigiani & Raffone Luggage Sony Classics Dinner Party and you can find photos from the event at this link. Additionally, photos from the Hollywood Reporter's Oscar Nominee Dinner are also now online in our galleries.