PotterCast 216: Do House Elves Lay Eggs?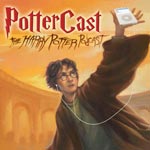 Mar 09, 2010

PotterCast, our Harry Potter podcast, is here today to bring you its 216th episode of Harry Potter news, discussion, and fun. First, the PotterCasters sort through the latest news, which include stories about Jo Rowling becoming a special edition Barbie doll, "Deathly Hallows" filming news from Emma Watson (Hermione Granger), confirmation of "Deathly Hallows" in 3D, Tom Felton's next film role, and an update about Helping Haiti Heal. Following the news, Bit by Bit goes through the heartbreaking and beautiful twenty-fourth chapter of "Harry Potter and the Deathly Hallows," where the Trio plot out their next move against Lord Voldemort. Next, Princely Pieces takes us through the next part of the sixth Harry Potter film where Harry and Luna disembark from the Hogwarts Express and enter Hogwarts. Finally, the drums bring the end of the show, with
As a reminder, the LeakyCon DVD, which will be available to pre-order soon, will also include all wizard rock performances from our conference. If you like live wizard rock, be sure to reserve your copy of the upcoming LeakyCon Live Album of the wizard rock live shows at our LeakyCon 2009 conference. To listen, just hit the "Play" button on the right side of the page (->), or use iTunes, or direct download.
"Do House Elves Lay Eggs?"
Latest in Harry Potter news.

Bit by Bit of "Deathly Hallows"

Death of Dobby.

Melissa wants to skip this chapter.
That bug is stuck.

I hug you! I hug you!

Questions in the Drums.

John's Battle for Hogwarts role.

Helping Haiti Heal updates.

Follow our LeakyCon 2011 Twitter and become a fan on Facebook!
Reserve your copy of the LeakyCon Live Album now!
RT: 57:02Producer: John Noe
Also, special thanks to our ever-vigilant mods for monitoring the live PotterCast recordings.
LeakyCon 2011: A Harry Potter Conference in Orlando!"Harry, A History" WebsiteJingle Spells 3Podcast AlleyDigg
Direct download.
Low-band Direct download.
Remember you don't need an iPod to listen. Listen easily on iTunes, which you can download and install here, by clicking here to listen, or you can just use the streaming Flash player at PotterCast.com or just on the right side of this page. Discussion of the PotterCast is right here. Enjoy!