J.K.Rowling Writes "Single Mother's Manifesto," Criticizes British Conservative Party in The Times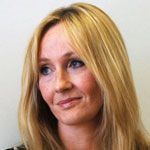 Apr 14, 2010
With the British General Election approaching on the 6th of May in the United Kingdom, J.K. Rowling has written an article in today's Times relating her options on the British Conservative Party's stance on single-parent families. In a critical look at some of the positions held by party leaders, the Harry Potter author asks whether the "nasty party" has really changed, as Conservative Party leader David Cameron says it has. In the article, Rowling particularly addresses the Conservative Party's plans to give married couples and civil partners a £150 annual tax break and Cameron's insistence that "it's not the money, it's the message." Rowling writes:

Nobody who has ever experienced the reality of poverty could say "it's not the
money, it's the message". When your flat has been broken into, and you
cannot afford a locksmith, it is the money. When you are two pence short of
a tin of baked beans, and your child is hungry, it is the money. When you
find yourself contemplating shoplifting to get nappies, it is the money. If
Mr Cameron's only practical advice to women living in poverty, the sole
carers of their children, is "get married, and we'll give you £150″, he
reveals himself to be completely ignorant of their true situation.
Rowling writes of how, following the 1993 break up of her first marriage, she "became a hate figure to a certain section of the
press, and a bogeyman to the Tory Government" for the supposed "easy life" she subsequently received along with state benefits and state-funded accommodation.
Whilst conceding that "[there] remains much more to be done" by the governing Labour party, Rowling stands firmly against the assumption that having "long since left single parenthood
for marriage and a nuclear family" she is a natural voter for the Tory (Conservative) party:

The 2010 election campaign, more than any other, has
underscored the continuing gulf between Tory values and my own. It is not
only that the renewed marginalisation of the single, the divorced and the
widowed brings back very bad memories. There has also been the revelation,
after ten years of prevarication on the subject, that Lord Ashcroft, deputy
chairman of the Conservatives, is non-domiciled for tax purposes.
Rowling goes on to discuss her reasons for remaining a domiciled taxpayer, centred on a sense of indebtedness to the British welfare state and a feeling that "it would have been contemptible to scarper for
the West Indies at the first sniff of a seven-figure royalty cheque." The author finishes by directly countering the widespread Conservative advertising campaign: "I've never voted Tory before … and they keep on reminding me why." You can read the article in full on the Times website at this link.