April 2010 Crafters Go Green Contest Announced, March 2010 Craft Along Extended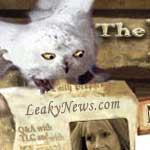 Apr 02, 2010
Firstly, the Crafty Witches and Wizard have announced the April 2010 Crafters Go Green! Contest. Earth Day is coming up on the 22nd of April and the Crafty Witches are continuing in the same vein as last month's eco-friendly Craft-Along. You can enter in either of the two categories.
The first category, Transfiguration à la green, asks you to transfigure a mundane Muggle object into something magical. Alternatively, you can enter an item in the second category, Reducio, Repurposio, Recraftio, which asks you to use recycled items and supplies from your stash to conjure up something from scratch.
The entries must be related to the Harry Potterverse and entries should be submitted to [email protected] no later than 11.59pm EST on the 22nd of April 2010. In your entry, please include: photos of your craft; a description of your craft; the category you're entering into and your name and/or Leaky Lounge user name. Winners will be announced by the 30th of April 2010. 1st, 2nd and 3rd place winners will be awarded 50, 25 and 10 MyLeaky House Points respectively and Crafty Witch Amber will also award another prize to the 1st place winner.
More information can be found here on the contest page, and a full contest description can be found at the Leaky Lounge, at this link. You can also take part in forum discussions about the contest in the Lounge right here.
In related news, the March 2010 Craft-Along has been extended until Earth Day, the 22nd of April. You may remember that the task was to turn a Harry Potter book into a bag that can be used in place of the pesky and environmentally detrimental plastic bag. The Crafty Witches note that you don't have to transform your personal copies of your favourite Harry Potter book but instead can work your crafting skills on a thrift store, yard sale or used book shop copy. Find more information on the March 2010 Craft-Along page at this link and you can sign up to take part right here in the Leaky Lounge.
Happy eco-crafting!