Alan Rickman Finishes "Deathly Hallows" Filming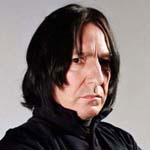 Apr 09, 2010
Thanks to Snitch Seeker we can tell you about a recent interview with Alan Rickman (Severus Snape) in which it is confirmed that Rickman has completed filming for "Harry Potter and the Deathly Hallows." The International Herald Tribune interviewed actor and director Alan Rickman about bringing Creditors to New York City's Brooklyn Academy of Music after a two year break since the play's original London run. Rickman's role in the Harry Potter films is mentioned briefly:
Mr. Rickman, who is known mostly as an actor despite several acclaimed turns as a film and theatre director, was less eager to discuss his own career. Not that it is bereft of interesting developments. The day before, for example, Mr. Rickman, 64, had just finished filming the final "Harry Potter" movie. His portrayal of the slithery and surprising Severus Snape has brought him fame as never before, making him into one of the world's most celebrated movie villains, a thrilling antihero to the Potter-mad masses. But in his own mind Mr. Rickman had merely jumped form one intense experience to another, and he was thoroughly focused on "Creditors."
Snitch Seeker has scans of the full interview in their galleries, including a new photo of Rickman directing Creditors. The play opens on the 16th of April at the Brooklyn Academy of Music; as we previously told you, Rickman will take part in a pre-performance Artist Talk at BAM's Harvey Theatre on the 27th of April at 6pm. Tickets to the 45 minute Artist Talk cost $10 and can be purchased at this link.
Many thanks again to Snitch Seeker for the heads up!