Actors in the News Weekly Roundup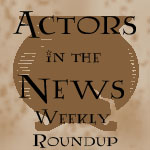 May 10, 2010
Members of the Harry Potter cast have been busy this week, from television appearances to charity auctions and new interviews. Our Order Partner DanRadcliffe.com has a number of new backstage photos of Daniel Radcliffe (Harry Potter) alongside the cast of musical "Promises, Promises." The play is showing on Broadway in New York and the musical's director, Rob Ashford, will direct "How To Succeed in Business Without Really Trying" next year, starring Radcliffe himself. You can find the photos at DanRadcliffe.com via this link.
Also thanks to DanRadcliffe.com we can let you know that Daniel Radcliffe has donated items to the charity celebrity watch auction held by Broadway Cares/Equity Fights Aids. The limited edition watch donated by Radcliffe can be seen on the CharityBuzz website, where you can additionally find more details of the signed "Equus" script and copy of A Day in the Life of Daniel Radcliffe book also donated by the Harry Potter actor.
A new video from NYLON's interview with Bonnie Wright (Ginny Weasley) can now be seen in our Leaky Video Galleries.
Wright shows the fashion magazine around a pub in Shoreditch, London
whilst discussing British pub culture and her music tastes; a video of
the interview can be found at this link.
A reminder that Rupert Grint (Ron Weasley) also took part in NYLON's
"Young Hollywood London" feature; a video of his interview is right here in our galleries.
Helen McCrory (Narcissa Malfoy) starred in a central role as Rosanna on the Saturday, 8th May episode of Doctor Who, "The Vampires of Venice." Residents of the UK can watch the episode online on the BBC's iPlayer.
In related news, Toby Jones (Dobby) will be playing the Dream Lord in the upcoming Doctor Who episode, "Amy's Choice." The episode will air on BBC One at 6.25pm BST and you can find a trailer for the episode on the BBC website. Thanks to nellythemarrow for emailing in!
Australia's Courier Mail has an interview with John Hurt (Mr. Ollivander) in which the actor discusses his role in "44 Inch Chest." Talking about the character he portrays in the film, Hurt describes Old Man Peanut as "deeply damaged." You can read the full interview on the Courier Mail website.
Lastly, we are sad to report that actor Jimmy Gardner died on Monday, 3rd May at the age of 86. Gardner played Knight Bus driver Ernie Prang in "Harry Potter and the Prisoner of Azkaban" and is survived by two siblings. A full obituary can be found on the Independent website. Thank you to the many Leaky readers who emailed in.