First Photos of Adult Ron Weasley, Scorpius Malfoy, and More Online (Updated)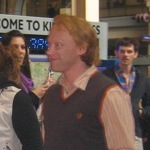 May 26, 2010
As a follow up to our previous report, new images of the Harry Potter cast filming the much anticipated Epilogue sequence at Kings Cross station are now online. In this newest set, we get our very first glimpse at actor Rupert Grint as his character, Ron Weasley, nineteen years later. This full HQ image can be viewed right here in our Image Galleries. We expect more photos to come online in the coming days, and if you are able to capture any images from the filming, please do email us at [email protected]
Update: Twitter user QueenSarcasm, the source of the original Adult Ron Weasley image, has posted a number of additional images from the filming which can also now be found in our Galleries here. Also, courtesy of TLC reader TinyDancer, we get a first look at adult Draco Malfoy with his son Scorpius
Many thanks to RupertGrint.us.