Emma Watson Attends 2010 MET Ball In New York City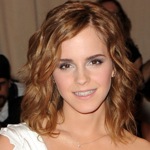 May 03, 2010
Actress Emma Watson (Hermione Granger) was in attendance at the 2010 MET Ball, which took place at the Metropolitan Museum of Art in New York City today. Photos of Miss Watson from the red carpet are now available online and can be seen right here in our Image Galleries.
The 2010 MET Ball, also called the Museum's Costume Institute Gala Benefit, is in conjunction with the May 5th opening of the "American Woman: Fashioning a National Identity" at the Metropolitan Museum of Art. A press release notes:

The exhibition features 80 examples of haute couture and high fashion primarily from the Brooklyn Museum Costume Collection at The Metropolitan Museum of Art, which was transferred to the Met from the Brooklyn Museum in January 2009. Many of the pieces have not been seen by the public in more than 30 years.
Visitors walk through time as they enter circular galleries that reflect the milieu of each feminine archetype. Period clothing is brought to life with hand-painted panoramas animated by music, video, and lighting. The first gallery evokes the ballroom of the "Heiress" (1890s), filled with ball gowns by Charles Frederick Worth. Scenes of the great outdoors showcase the athleticism and physical independence of the "Gibson Girl" (1890s) as characterized by bathing costumes, riding ensembles, and cycling suits.
The exhibition runs from May 5, 2010 through August 15, 2010.