New Books for Jo's Book Nook, Harry Potter Book Club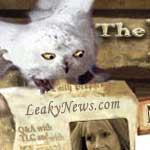 May 03, 2010
With the brand new month, our book clubs at the Leaky Lounge invite you to join them in reading a brand new set of books.
Firstly, our non-Harry Potter Book Club, Jo's Book Nook, is discussing Robinson Crusoe by Daniel Defoe. J.K. Rowling, author of the Harry Potter books, named Robinson Crusoe on her list of the Top 10 Books for Kids. That said, the 1719 novel is not just for children. The Robinson Crusoe forum has threads on slavery, the influence of Robinson Crusoe and even a Desert Island Discs-style discussion about the five books you would take to an island. Take part at this link.
Secondly, our Harry Potter Book Club is reading Harry Potter and the Order of the Phoenix. The forum for the Book Club's reading of the fifth book is full of quizzes and many interesting discussion topics about the themes and issues in the book. Follow this link to take part.
Both of these book clubs are open to anyone registered with MyLeaky. Happy reading!