Emma Watson on College in New Issue of Vanity Fair, Behind the Scenes Video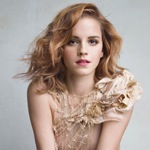 May 05, 2010
The June 2010 issue of Vanity Fair magazine has a short piece on Emma Watson, in which the Hermione Granger actress discusses walking into American college life as a freshman at university, as well as her feelings first being cast in the films. Speaking to her first impression of her freshman year at school, Miss Watson relates:

"It was just awful," she recalls thinking at first, during freshman week. "I was like, I must be mad. Why am I doing this?" And what was with all the party-hearty stuff? She nervously attended her first frat party, hoping she might get into the swing of things. "I felt like I'd walked into an American teen movie. I picked up the red cups. I was like, Wow, they really do drink from these."
The young actress goes on to note in the article that, as time went on, she became fully acclimated to the new environment, and was able to attain her goal of having a normal college life.
A behind the scenes video of an accompanying photo shoot is also now online, and can be viewed right here in our Video Galleries.