Details on Original Wizarding World Proposal, Butterbeer, and Crowd Control Discussed During Press Conference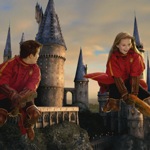 Jun 16, 2010
This morning, a press conference was held for media attendees of the Wizarding World of Harry Potter grand opening at Universal Orlando Resorts. Leaky was in attendance at this press conference, and was able to obtain some new information about the Harry Potter theme park. Here is a brief rundown of some topics covered during the press conference:
The original proposal for the theme park was presented to Harry Potter author J. K. Rowling in pop-up book form.
Universal's Culinary Team brought ingredients for Butterbeer to Scotland to make it for J. K. Rowling and get her approval.
Have chosen to go with an "ebb and flow" plan when dealing with crowd control. The plan, so far, has been "working perfectly."
Universal does not see the Gulf oil spill as affecting the opening or operation of the theme park this summer.
In regards to crowding, Universal notes that they "will manage [their] way through whatever number of people show up."
Leaky's full account will be online shortly. Stick close to Leaky and Leaky's Twitter account for up to the minute information about the Wizarding World grand opening events.