Wizarding World Celebrity Preview Beings Tonight at 9:30 PM EST (Updated)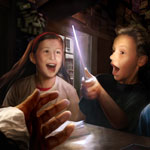 Jun 16, 2010
As readers will recall, tonight, the grand opening festivities at Universal Orlando's Wizarding World of Harry Potter theme park will kick off at 9:30 PM EST with a Celebrity Preview, featuring actors from the Harry Potter films along with a performance of an arrangement by film composer John Williams. This event will be streamed live via the Universal Orlando website right here. At tonight's event, actors Dan Radcliffe (Harry Potter), Rupert Grint (Ron Weasley), Michael Gambon (Professor Dumbledore), Matt Lewis (Neville Longbottom), Tom Felton (Draco Malfoy), James and Oliver Phelps (Fred and George Weasley), Bonnie Wright (Ginny Weasley), and Warwick Davis (Flitwick) are said to be in attendance. We will upload images and video from the event as they come online.
Update: The first images are starting to come online of actors arriving on the red carpet. Additionally, images from this morning's press conference can be seen here.
Leaky's own webmistress Melissa Anelli is at the theme park for all the happenings and will be live Tweeting the event throughout the evening. Stay close to TLC for photos and video of the event as it happens, as well as a recap later this evening.