Demo Gameplay Trailer for LEGO Harry Potter Years 1 – 4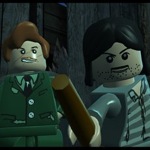 Jun 17, 2010
There is now a demo trailer from E3 for the LEGO Harry Potter Years 1 – 4 video game that can be found at GameTrailers.com or below. The video features Harry and Hagrid in Gringotts, Diagon Alley, and Ollivander's. The video shows both Hagrid and Harry being played as well as a few cut scenes, where the characters are acting out familiar scenes from Harry Potter and the Sorcerer's Stone.
style="width: 450px;">font-family: Verdana; text-align: center; width: 450px; padding-top: 2px; padding-bottom: 2px; background-color: black; height: 32px;">Video Games | LEGO Harry Potter | E3 2010: Demo Gameplay (Cam)
style="padding-top: 3px;">XBox 360 | Playstation 3 | Nintendo Wii
Thanks to Sue for the heads up!