Recap: Wizarding World of Harry Potter Celebrity Preview Concludes, HP Cast Reveals Hogwarts (Updated with Photos)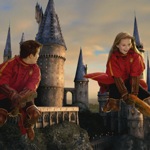 Jun 17, 2010
Due to technical difficulties, here is our earlier recap of the events from the first part of the Wizarding World of Harry Potter grand opening. Last evening, actors Dan Radcliffe (Harry Potter), Rupert Grint (Ron Weasley), Michael Gambon (Professor Dumbledore), Matt Lewis (Neville Longbottom), Tom Felton (Draco Malfoy), James and Oliver Phelps (Fred and George Weasley), and Warwick Davis (Flitwick), as well as Harry Potter author J. K. Rowling walked down the red carpet into the theme park for the Celebrity Preview. Our previous coverage can be found here and here.
Here now is a brief recap of the opening ceremonies. Leaky's full report is due shortly.
Actor Warwick Davis conducts the Frog Choir of Hogwarts, complete with animatronic frogs, who perform "The Hogwarts March" and "Double Trouble."
Chairman and CEO of Universal Parks speaks and introduces Ron Meyer, the President and COO of Universal Studios.
Barry Meyer, Chairman and CEO of WB speaks.
John Williams conducts the Orlando Philharmonic Orchestra in rendition of "Harry's Wondrous World."
The Knight Bus pulls into the park, dropping off actors Michael Gambon, Tom Felton, Matt Lewis, James Phelps, Oliver Phelps, and Bonnie Wright.
Seconds later, the Weasley Car appears and drops off Rupert Grint and Dan Radcliffe.
Dan Radcliffe speaks, leads the audience in casting the Lumos spell to reveal the Hogwarts Castle.
Firework and light show follows, accompanied by clips from the film projected onto the the foundation walls of Hogwarts.
The first round of photos is now online, and can be found here in our Leaky Galleries. Photos include: