Some Numerical Details Provided for LEGO Harry Potter: Years 1 – 4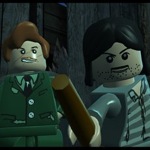 Jun 30, 2010
USA Today has a short article discussing "five things you didn't know about LEGO: Harry Potter." This list comes from Vince Grogan, who is the associate producer and developer at Travellers Tales. These five items mostly focus on numerical aspects of the game, such as the third thing on their list:
The largest LEGO model in the game is the Basilisk Snake which is made
up of 783 individual LEGO bricks, of which 167 make up its head. The
second largest is Aragog the spider with 566 individual LEGO bricks,
each of his eight legs contain 19 LEGO bricks, his main body contains
208 and the rest make up his head and not to mention the pincers!
Travellers Tales also recreated their own version of the Hogwarts
express especially for the game which was the third largest model with
534 LEGO bricks.
You can read the article here. The LEGO Harry Potter: Years 1 – 4 video game is now available in Europe and North America.