Mayor of London Wants Potter Fans to Lobby for London Theme Park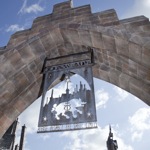 Jun 08, 2010
Yesterday, Mayor of London Boris Johnson wrote a column in the Daily Telegraph's Comment section about The Wizarding World of Harry Potter attraction. Johnson was highly critical of the location of the theme park, asserting that whilst he has "nothing against Orlando," he "bitterly [resents] that Orlando is about to become the official place of pilgrimage for every Harry Potter fan on earth."
Voicing his frustration, the Mayor continues, "sometimes [the British] just don't seem to have the gumption to exploit our intellectual property." Johnson acknowledges that all behind The Wizarding World of Harry Potter will "do a magnificent job" but remains disillusioned by the prospect:

I know somewhere that's even better than Orlando at looking like London ' and that is London. I want to know why this Kingdom of Potter is not being built in the UK, and I won't be fobbed off with any nonsense about the weather. They built Eurodisney in the Valley of the Marne, where it is at least as cold and drizzly as it is in London ' and it has been a triumphant success.
Johnson goes on to talk about the longevity of the Harry Potter series, commenting that he has listened to his children "babble about the detail, the clues and suggestions that become ever richer with re-reading, the emotions evoked and the deep satisfaction that these books evidently give."
The Mayor ends with an appeal to children and parents to write to Warner Bros., Universal and J.K. Rowling to "[bring] Harry home to Britain." You can read the article in its entirety via this link.
Thanks to Maryam for emailing in!