Actors in the News Weekly Roundup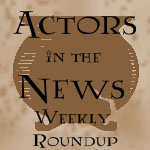 Jul 12, 2010
The Harry Potter actors have been busy this week, with lots of news and pictures coming from new and upcoming projects.
As we told you recently, Clémence Poésy (Fleur Delacour) will star in the upcoming series of "Gossip Girl." Photos of Poésy filming on location in Paris alongside Chuck Bass actor Ed Westwick have started appearing on the internet and can be seen here in our galleries. In related news, the Fleur Delacour actress also attended the Chanel Haute Couture show at Paris Fashion Week. You can find images from the event in our galleries via this link.

The Guardian is today reporting that Michael Gambon (Albus Dumbledore) will be appearing in the Christmas Special of British sci-fi television programme, "Doctor Who." The 60-minute long Christmas episode will air on BBC 1 on Christmas Day. Steven Moffat, Head Writer of "Doctor Who" said of Gambon, "[he] is as distinguished an actor as I can imagine and the
fact that he was Dumbledore means that he is already know to millions
of children." You can find out more details about the episode in the Guardian article at this link.
Photos of John Cleese (Nearly Headless Nick) filming scenes for an upcoming episode of HBO show "Entourage" can be seen in our galleries at this link. Few details have emerged about Cleese's role in the programme. Filming took place in a park in Santa Monica, California.
Lastly, we have some new images of Robert Pattinson (Cedric Diggory) on the set of "Water for Elephants." Filming began at the end of May this year in Los Angeles, Piru and Fillmore, California. Pattinson stars in a leading role as Jacob Jankowski in the film adaptation of Sara Gruen's New York Times Bestseller, also titled Water for Elephants. You can find the new photos from the set here in our galleries.