Emma Thompson to Receive Star on the Walk of Fame Next Week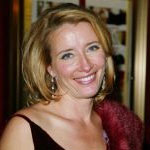 Jul 28, 2010
Emma Thompson (Sybill Trelawney) is to receive the 2,415th star on Hollywood's Walk of Fame on Friday, 6th of August. Thompson will speak in front of the Pig 'n Whistle pub on Hollywood Boulevard, joined by "House" star and fellow University of Cambridge graduate Hugh Laurie. Maggie Gyllenhaal, who stars alongside Thompson in "Nanny MacPhee and the Big Bang" – distributing as "Nanny MacPhee Returns" in the USA – will also speak at the late morning ceremony.
Thompson has won two Academy Awards, the first for Best Actress for her role in "Howards End" and the second for Best Adapted Screenplay for "Sense and Sensibility", in which Thompson also starred. The actress first played Sybill Trelawney in "Harry Potter and the Prisoner of Azkaban" and is currently working on a new adaptation of "My Fair Lady."
Thanks to HPANA for the heads up!