Bonnie Wright Discusses Ginny and Filming the Epilogue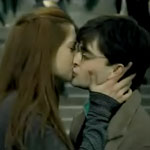 Jul 06, 2010
In a new interview with MTV Bonnie Wright (Ginny Weasley) talks about how Ginny's relationship with Harry came as a surprise to her:
"Being the person who sort of ends up with the hero of this franchise is
never something I ever would have imagined," she said of her character
becoming Harry's love interest. "It's just been so exciting, so lovely
to have something that develops further, and you can make [Ginny] my own
and take things from your own life growing up and put those things into
it."
Wright also discusses the filming of the epilogue in "Deathly Hallows":

Regarding the much-discussed, heavily hyped epilogue, Wright said the "full-on scene" is a
fitting end to the series because the filmmakers chose to shoot it as a
stand-alone ending, not just a background for the end credits. She added
that one of her last scenes in the epilogue was a particularly surreal
moment, because her character started and ended her "Potter" journey in
the same place.
"It wasn't my last scene, but it was one of my last scenes.
That's where I started the journey of 'Harry Potter,' on the platform,
and then to see the girl who's playing our daughter was just
psychologically, it was very weird, because she's the same age as me. It
was literally having a whole cycle of the journey."
You can read more here. "Harry Potter and the Deathly Hallows: Part 1″ comes out November 19th, and "Deathly Hallows: Part 2″ comes out July 15th, 2011.