Audio Clip from "Deathly Hallows" Comic-Con Footage Now Online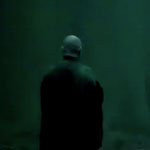 Aug 18, 2010
Though the "Deathly Hallows" footage shown at Comic-Con has not made its way online, an audio clip of what was shown has now been uploaded:
The audio clip is approximately four minutes, fourteen seconds long and
does feature a lot of new dialogue that we haven't seen/heard yet in
previously released clips/trailers. The dialogue is broken up by bits of
musical score, which indicates that there are other scenes being shown
in-between. You can listen to the clip below (note: this was taken live
during the screening, so you will hear lots of screaming throughout the
clip). A rough translation of the dialogue can be found after the clip.
You can listen here.